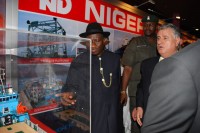 Nigeria Oil & Gas Conference 2011 will hold from the 21-24 February 2011 at the International Conference Centre in Abuja.
With unparalleled learning and networking opportunities, NOG is the largest and most senior oil & gas event in Nigeria and West Africa.
Join senior government representatives, NNPC management and Nigerian and international industry leaders to discuss new developments and strategies to develop your business.
NOG welcomes over 7000 participants annually and is firmly established as the largest and most prestigious Oil and Gas event in Nigeria and West Africa and has the full support of the Nigerian National Petroleum Corporation (NNPC) and the Ministry of Energy and the event is growing every year.
Find out how your company get maximise their involvement in the prestigious and highly enjoyable event. Read more about the exhibition
Read more for the latest conference updates.