D'Banj, born Oladapo Daniel Oyebanjo and who is also known as the Kokomaster, released his debut album "No long thing"  in 2005, revolutionizing the Nigerian music scene.
His follow up albums include Rundown/Funk you up in 2006 and "The Entertainer" in 2008 and his 2010 singles "Mr Endowed" and "Scapegoat" are on every music playlist across the continent of Africa.
D'banj was born in Zaria, Kaduna State, Nigeria to a military officer who commanded an artillery regiment and a church dignitary mother who hailed from Shagamu in Ogun State. Due to his father's profession he moved several times within Nigeria and also moved to India. D'banj was expected to follow his father's military career and was enrolled to the Nigerian Military School at age eleven.
He resisted the system and disenrolled from the school after three years. While at the Military school he was a member of the elite drum corp of the Nigerian Army. From the Nigerian Military School he proceeded to another military owned institution Nigerian Navy Secondary School, Ibara, Abeokuta where he completed his secondary school education[
D'banj has won several music awards including the awards for Best African Act at the MTV Europe Music Awards 2007 and Artist of the Year at the MTV Africa Music Awards 2009. He adopted the stage name D'banj, a combination of his first name Dapo and his surname Oyebanjo.
His highly anticipated 4th album and the Mr Endowed remix featuring Snoop Doggy Dogg is due to be released in 2011.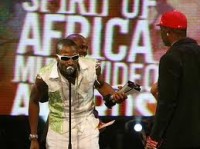 More: See D'Banj's webpage