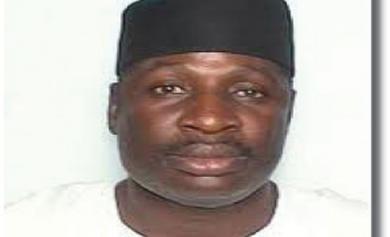 Ishaka Bawa is the chief whip of the House of Representatives. In this interview with TORDUE SALEM, the Taraba State-born lawmaker, who represents Wukari/Ibi federal constituency, speaks on the revocation of licenses of banks by the CBN, the call by former president Olusegun Obasanjo on the speaker and his deputy to quit, the single term of six years proposal and other issues. Excerpts
What is your take on the single term of six years proposal for the office of the president and governors?
Well, I think a single-term proposal by the presidency is an offer to the people of Nigeria. If the people of Nigeria accept the single tenure through a constitutional amendment, so be it. If Nigerians decide that they want to migrate from two terms of four years to a single term of six years, then we would look at it. So, the burden of decision now lies on Nigerians in the process of constitutional amendment.
We are the representatives of the people; we have no option but to abide by the wishes of our constituents. But if Nigerians, for example, say they don't want the president's proposal, then there is nothing we can do about it. But at this time, for me, it is not what we are supposed to focus on. As we are resuming after the Ramadan break to continue our representation of the people, we must be focused on more serious issues. For me, we need to look at the infrastructural decay in the country. The problem of this country is not tenure-based. It is a problem of infrastructure.
We cannot ignore the continuous degeneration of our infrastructure and concentrate on the unnecessary and contentious issue of tenure. Everything is collapsing in Nigeria. If you look at the industries we had in this country in the 70s and 80s, they are nowhere to be found today. Lagos, Kano, Ibadan and other cities in Nigeria that had functional industries, go there you will be depressed.
Take the issue of education: it is as degraded as the the Zimbabwean dollar. You can't compare the Primary 7 in those days and a graduate today; so education is collapsing. Any country that wants to develop; that wants to achieve vision 20:20:20 must rethink the way our system operates. We must rethink the cost of governance; the cost of governance is to high for sustenance. The overhead cost in this country is not realistic, and, over and above, all these things are centred on corruption. And whether we like it or not, there is corruption in this country and it is our collective responsibility to come together, from all strata, to fight this monster. We must wage a fervent war against this menace, because if we fail, then we cannot move forward. Whatever we do, if the country is still corrupt, we cannot make progress.
What would you think is the motive for bringing up the issue of tenure now?
For now, there is no precise reason as to why the presidency would want a single tenure for governors and the president, but people have their opinions. Some say it is a tactical way to elongate the tenure of Mr. President; some say it is not timely, but as far as I am concerned, as I rightly said earlier, we have a lot more important things to do in this country than tenure, and when it comes, we would go to our constituencies to trash it out.
The Central Bank of Nigeria, has acted against section 39 of the BOFIA Act – by revoking the licenses of BankPHB, Skye Bank and Afribank before the September 30, deadline it earlier issued. Others say that the CBN is juggling too many issues of policy for economic comfort. As a principal officer of the House, what is your take on all these?
The issue is that, at times, when we make these laws, we saddle some agencies or parastatals with powers to exercise these powers. So, we must allow a particular agency with such powers to exercise its powers. Unless it appears to the National Assembly that the CBN governor arbitrary used his powers, we cannot wade into his work; or until the decision is inimical to our wellbeing or peaceful co-existence, we should hands off. Unless the CBN directly or indirectly violates the provisions of the CBN Act of 1991 or any relevant Act, we cannot just come in. But if there is a case of violation of a relevant Act, then, definitely, the matter will come to the National Assembly, and we will then investigate it as a violation. The number two option will be that those who think their rights have been infringed upon can go to court. Or by way of legislation; if we feel the relevant laws governing the operation of the CBN are not good enough for the well being and good governance of Nigerians, we will amend them. If we find that there are defects in the provisions of an Act, we would amend.
The Securities and Exchange Commission (SEC) has not made a public statement to reassure lay bank investors. The National Assembly, on its part, has not said anything on the matter. What do you think is the way out?
Actually, we are on our recess and we are resuming after the Ramadan and, actually, the matter is likely come out by way of Matter of Urgent Public Importance, or by way of a motion. If the decision of probe comes out from members of the parliament, then we would act on it so that we restore the status quo, so that nobody, whether a shareholder or a manager, is shortchanged.
Are you satisfied with the CBN as a regulating body?
We want to achieve Vision 20:2020 and, to do that, we have to give up certain things that we are not doing rightly. Why we lag behind countries like China and other developed countries is because we are not ready to take steps of courage. We have to make sacrifices in this country to be able to move forward. Nigeria as a country must also take the lead for Africa in the course of progress. We cannot grow if we continue like this.
We must not allow things to be business-as-usual if we want to get to where other more serious countries are. Where we are today is our making. We chose to be in this dismal position. We had all the opportunities at independence (in 1960) to transform this country to greater heights, but we could not, because of the problem of policy inconsistency. Today, the military takes over and throws out his predecessor's policies, and before long, another one comes with fresh ones, whether military or civilian. So, inconsistency in policy thrust is one of our problems. Look at the case of Bureau of Public Enterprises (BPE); it is not even a European; it was not an American that sat and sold out the ALSCON: it was Nigerians, like us, that sold it. Now tell me how you can convince an outsider next time to come and invest in Nigeria? Do you want to call an outsider to come and take over a Nigerian company? How?
When you have this level of inconsistency, how can you develop? Even as a Nigerian, today if you ask me to come and buy a company, I cannot, because I don't know what is going to happen the next day. I cannot go and put my money in a business that is insecure and uncertain. I cannot. Ajaokuta is not realistic; for several years now, since the early 70s, the Ajaokuta Steel Company has been a money guzzler, so we must have a rethink about governance in this country.
Take agriculture for example; that sector is in a shambles. Go to Israel and see how they have been able to transform a small arid landmass to an agricultural goldmine. Go to even resource-poorer countries and see what they have been able to achieve with a little.
With all the river basins, the tributaries, we are still importing food from poorer countries. It is very embarrassing that this countries will be importing food. If you take agriculture, for example, there is not a single aircraft for aerial irrigation in this country. Another appalling case is that average Nigerian farmers are between 40, 60 to 70 years; that means the race of agriculturists or farmers will soon pass on. What it means is that the future of agriculture in Nigeria is even bleaker. The race of farmers continues to deplete because the condition in which farmers have found themselves continues to be antithetical to best practices in the sector.
Where do you think an old farmer in the village will get the strength to clear hectares of land for large-scale farming. Where do you think he can get the financial muscle to hire the manpower to clear a vast piece of land for farming? NARDA was established and given the responsibility to clear lands for farmers, but we scrapped NARDA. We scrapped DFRRI (Directorate of Food, Roads and Rural Infrastructure) Where is Operation Feed the Nation? All these are gone! All the River Basins are gone! All our textile industries are no more!
A few days ago, newspapers were awash with President Olusegun Obasanjo's call on the leadership of the House of Representatives to quit after two years so that the PDP zoning formula will be restored by having a South-West speaker. What is your view on this?
Nobody, not even Obasanjo can call on the present leadership of the National Assembly to quit. Nobody, I repeat, nobody can lift a finger against us! Obasanjo's talk is a mere opinion and it remains a mere opinion. He cannot dare to come to the floor of the National Assembly and say that.
You call an advice from the chairman of the Board of Trustees of your party insignificant?
As far as the National Assembly is concerned, Obasanjo's call is a mere opinion.
But you are subject to the party rules and the ex-president happens to be one of the leaders of the party, and the ex-president who doubles as BOT chairman is a heavyweight. So shouldn't you take whatever advice he gives a weighty one?
No, Obasanjo's statement is not weighty! I insist that, that is his opinion. It is not the party's opinion and, most importantly, the opinion is not shared by the House of Representatives. We may be subject to the party's zoning formula, but we are an independent House. It is true we derailed from the party's decision and elected our own Speaker, but we have decided to stick to our choice.
What about the contentious issue of running cost of the House. I am aware that the Revenue Mobilisation Allocation and Fiscal Commission (RMAFC) is statutorily required to decide what lawmakers earn as salaries and allowances, you set aside huge subheads in annual budgets as running costs. What would you do about the latter in the face of your fervent call for probity and fiscal discipline in governance at all levels.
We are working assiduously with the management of the National Assembly to cut the running cost and to make sure whatever comes out as budget for running cost of the House or National Assembly is deposited in a pool and judiciously utilised. My candid advice (to my colleagues) is that we do whatever we can to avoid whatever will put us into trouble.
What have you learnt from the predicament of former Speaker, Dimeji Bankole and his deputy Usman Nafada, who are on trial for corruption in office?
I think the incarceration and trial of the ex-speaker and his deputy are clearly political. The money they are accusing them of collecting, whose coffers did they go? Who are the beneficiaries of the so-called money? Is it the former speaker alone and his deputy? We are operating a democracy where there is equality before the law. We are operating a democracy where everybody must be equal before the law, but caution must be exercised. ?