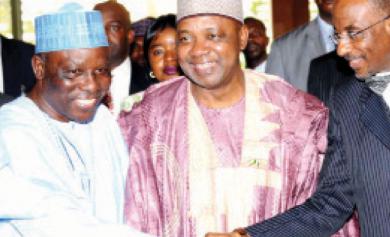 Kaduna State governor Patrick Ibrahim Yakowa, has observed that "Violence for whatever reason is an ill wind, it does not solve any problem, rather compounds issues for those affected".
He made the observation while speaking with journalists recently in Kafanchan shortly after breaking the Ramadan fast with the Muslim community of southern Kaduna Senatorial district. The breaking of fast was also attended by many Christian leaders from the area.
Describing the post presidential election violence in some parts of Northern Nigeria as most unfortunate and unnecessary, Governor Yakowa explained that, "whether killings, maiming or destruction of property, the end result was always regret".
Governor Yakowa expressed satisfaction over the efforts being made by his administration at harmonising the various interest groups in the state. This was even as he said that the effort was yielding positive result.
Part of this result, the governor said was that people were gradually re-integrating themselves, Local Government councils in the state were also holding reconciliatory meetings with stake holders at their level thereby complementing the efforts of the State government at ensuring a harmonious, co-existence that would guarantee development.
Similarly, Yakowa flagged off the distribution of Millennium Development Goals (MDGs) drugs, hospital equipment and furniture with assurance to give priority attention to positive transformation of some sectors, including health in the next four years.
Requesting all stake holders, particularly religious, traditional rulers and politicians to put all hands on deck to ensure the attainment of set goals, he said that other sectors to be given priority attention include portable water, road network and electricity.
The Kaduna State commissioner for Health, Alhaji Turaki Kalik in his speech stated that his ministry, in collaboration with the State Government, has designed strategic programmes aimed at providing quality health services in the state.
These, he said, include medical treatment of children under five years, pregnant and lactating women, sustainable drug supply system.
The commissioner called on all beneficiaries of distributed items to ensure their judicious use and announced that a committee had been set up to monitor all health programmes in the state.
?