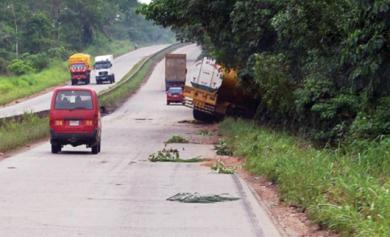 This year's Eid-El-Fitri celebration in Ondo State turned awry as no fewer than 34 persons died in a multiple auto accident along Akure-Owo Expressway late Monday.
LEADERDHIP also gathered that 16 of the victims were roasted alive in the crash which involved two Abuja bound buses and a trailer.
It was further learnt that the 14 occupants in one of the buses involved in the accident were roasted beyond recognition.
An eye witness said that the increase in the number of passengers at the parks as a result of the Eid-El-Fitri celebration might have caused the accident as the drivers were said to be rushing to make enough money from more trips.
It was also gathered that efforts by the police and other road users to save the situation proved abortive as the flame from one of the buses was massive and could not be put off.
While the police and other good Samaritans were helpless in saving those in the bus that caught fire, it was another tragedy as the 14 occupants in the bus which ran into the bush reportedly died on the spot.
Efforts by the police and other sympathisers to rescue the occupants in the bus that crashed into the bush was fruitless as they were all dead before they were brought out the of the wreckage.
Speaking with journalists in Akure, the police spokesman, Mr. Adeniran Aremu, said that the crash occurred late on Monday.
Aremu pointed out that the two buses were on top speed and in an attempt to overtake the other, one of the buses veered off its lane and rammed into an incoming trailer marked XN769ABC.
He added that the bus and the trailer went up in flame and all the occupants met their untimely death.
The passengers in the other bus marked XZ 976 AKD were not burnt but that they all died on the spot as a result of the crash especially as help did not come too soon.
Aremu added that the corpses had been deposited at the Specialist hospital in Akure.
Contacted, the Sector Commander of the Federal Roads Safety Commission, Mr. John Meheux confirmed that 32 persons died in the multiple crash.
Meheux said that this was confirmed by the rescue team he sent to the scene of the crash and added that ""all the 14 persons in the first bus, a Toyota Hiace and the two occupants of the trailer which it crashed into got burnt beyond recognition.
According to him all the 18 passengers and the driver died on the spot while three others sustained injuries.
?