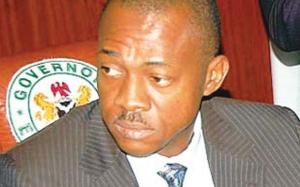 As the prolonged absence of Enugu State Governor Sullivan Chime continues to generate concern, a pro-democracy association under the auspices of Save Enugu Group (SEG) has urged the state government to quickly constitute a delegation to pay a visit to the governor wherever he is and report back to the good people of the state.
This is even as the group, made up of prominent Enugu citizens, insisted that "that this matter be given the priority attention it deserves and the palpable anxiety pervading the state arrested within" a maximum period of two weeks.
In a petition sent to the acting governor of the state, Sunday Oyebuchi and copied to the Speaker of the State House of Assembly, Eugene Odoh, the group suggested that "eminent Enugu state sons and daughters like the Catholic Bishop of Enugu His Grace Bishop Callistus Onaga, Rev. Hyde Onuaguluchi, Prof. Bath Nnaji, Igwe Paul Egbogu, Chief Grace Obayi, Chief Nduka Eya, Secretary General Ohaneze Ndi-Igbo, Dr. Louis Anya Chukwuma" should be members of the delegation to visit the governor.
The statement which was issued and signed by former commissioners in the state, Igbonekwu Ogaziomora, and Barrister Ray Nnaji, renowned politician,? Chief Mazi Okwu, National Secretary of the Conference of Nigeria Political Parties (CNPP),? Chief Willy Ezugwu and Comrade Victor Eneh,?? urged the government of the state? to give a categorical explanation on the whereabouts and status of Governor Chime.
"We of the above named association being a pro-democracy association founded by Nigerian citizens of Enugu state extraction wish to forward this letter to you out of deep concern for our state.
According to the statement, "Today makes it 110 days since our great governor was last seen in public. It is in the public domain that our he was last cited in public on September 19, 2012. Since then sightings and near sightings of him have been reported which all turned out to be a hoax. This unsavoury state of affairs has created a thriving mill of idle gossipers who speculate on his whereabouts and state of health."