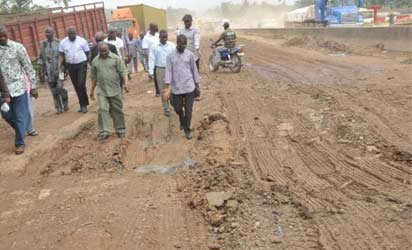 The Kaduna State Government has denied engaging incompetent contractors for the ongoing 31 road projects across the state.
The Commissioner for Works and Transport, Alhaji Suleiman Richifa, also denied the rumour that some of the contractors had abandoned work on the roads.
Richifa told the News Agency of Nigeria (NAN) on Thursday in Kaduna that the government was meticulous in the selection of the contractors.
He said the contracts, awarded in November 2012, were given to tested contractors who had undertaken similar road projects in the state.
Richifa said no contractor had abandoned site, saying:"as at today (Feb. 7) contractors were all working on various sites and they have achieved various percentage of the projects."
The commissioner said the state had only paid 25 per cent advance payment to the contractors.
Richifa blamed the recent protest by youth affected by the Romi- Karatudun road project, on misinformation.
"The consultant ordered the contractor on the Romi-Karatudun road project to stop work, but all rifts had been resolved and work is going on at the site," he assured.
Meanwhile, Richifa has said that the state government was yet to conclude plans to ban the operations of commercial motorcyclists, also known as 'Okada riders' in the state.
The commissioner said the government had not presented the bill to ban their operation to the state House of Assembly for legislation.
He said, however, that the government had purchased 700 tricycles, which would be distributed to the commercial motorcyclists, once the issue was concluded.
Richifa also assured residents that the 50 buses purchased by the state government would soon be inaugurated, to reduce transportation difficulties in the state. (NAN)