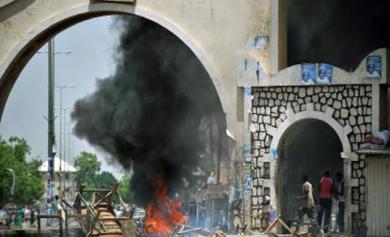 Onitsha (Anambra), March 30, 2013 (NAN) The quick intervention of a combined team of personnel from the Nigerian security forces helped to quell a clash between youths in some parts of Onitsha in Anambra on Friday.
The News Agency of Nigeria (NAN) reports that the clash was between members of the Movement for the Actualisation of Sovereign State of Biafra (MASSOB) and Association of Igbo Youths (AIYO).
Mr Benjamin Wordu, the Police Area Commander for Onitsha, confirmed the incident to newsmen through telephone.
He said he was forced to invite personnel from the Nigerian Army and the Navy to assist the police in quelling the crisis which lasted for many hours.
Wordu however said he was not?aware of any casualty arising from the incident, or any arrest from both sides.
NAN gathered that the clash had paralysed commercial and social activities in the town for most hours of the day, forcing traders to close their shops for safety.
When contacted, Mr Anyanwu Chimaobi, MASSOB's Regional Director for Special Duties, blamed AIYO members for the incident.
"It was members of Okpoko Vigilante Services who teamed up with AIYO members to?attack?the MASSOB office at Okpoko area of Onitsha,'' he said.
Chimaobi further alleged that the attackers set MASSOB's office and some motorcycles ablaze, looted others and abducted some MASSOB members.
Reacting, Mr Emeka Uga, State Chairman of AIYO, said that the clash started when some MASSOB members mounted a roadblock and were allegedly extorting money from members of the public.
"AIYO members tried to stop them, but they instead went on rampage and invaded some offices of AIYO at Onitsha North and Onitsha South and unleashed mayhem on the members,'' Uga alleged.(NAN)