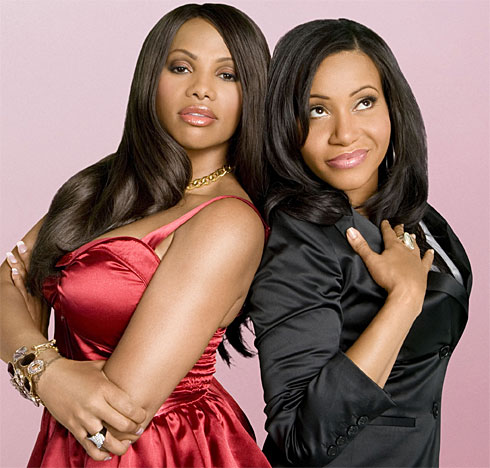 American duo Salt and Pepa will hit Nigeria on May 1, 2013  for the DIVAS ROCK CONCERT scheduled for the 10 DEGREES, Plot A2, Billingsway Road, Oregun Industrial Estate, Oregun, Ikeja, Lagos.
The Divas Rock concert is to acknowledge and honour the accomplishments and contributions of the undisputed pioneers of female hip hop as well as our own home grown talents who have followed in their footsteps.
Salt-n-Pepa came onto the music scene in 1986 and went on to sell over 10 million albums worldwide. Their debut album, Hot, Cool & Vicious received some airplay on R&B stations thanks to the songs "My Mic Sound Nice" and "Tramp".
But when San Francisco DJ and producer Cameron Paul created a remix of "Push It". it gave the group their first major hit single, quickly becoming a platinum Top 20 pop hit, receiving a Grammy nomination, and helping the album reach Platinum album status.
Their album, Blacks' Magic became a breakthrough hit. Singles. like "Do You Want , Twist & Shout, Me, and "Let's Talk About Sex" helped the album became a best seller. Very Necessary, was their most successful album to date. Buoyed by the singles "Shoop," "Whatta Man" and "None of Your Business", the album eventually went four times platinum in the U.S.
Other Artists who will be coming together with Salt-N-Pepa on the stages are:
Sacha P
Sasha, also known as the First Lady of Hip Hop, has remained relevant for almost a decade. This multi award winning Diva (best Female Artiste at the Women in Entertainment, Best Female Video Channel O) not to mention her various nominations (Best Female Video Sound City, Best Hip Hop Act KORA 2ce), has continued to increase her fan-base both home and abroad.
Ms. Jaie
Ms Jaie's unique sound has a beautiful blend of modern R&B, soul and urban Naija. Her lead singles 'Korrect Guy',' The One' and 'Wine' prove Ms. Jaie to be vocally mesmerizing with catchy lyrics that will have you humming all day.
Eva
Eva Alordiah better known as Eva has in a relatively short time earned a top spot on the Hip Hop scene. Eva became noticeable after she teamed up with Cartiair in 2009 when she was featured on the remix of Owo ati Swagger alongside Gino, Terry tha Rapman and the Late Dagrin.
The song which was nominated for Best Collaboration in a Video at the Soundcity Music Video Awards in 2010 became one of the biggest songs of the year and mapped a very good path for the young female artiste. Her singles include I Stay over and Relentless.
Weird MC
Shola aka Weird MC is a true veteran and on the scene for nearly 20 years, she burst into our consciousness with the hit tune Allen Avenue. Revamped and rejuvenated, she again hit us with the unforgettable party hit Ijo Ya confirming her place as the undisputed pioneer of Hip Hop in Nigeria.
Together for the first time we believe the choice of bringing top Female Acts to one show, being a novel one, will offer an enduring musical legacy to a very wide audience.
Concert starts at 6:00pm.  For more on the duo, see: http://www.saltnpepa.net/