A man seen ranting at a video camera with a bloodied pick-axe moments after a soldier was brutally attacked in the street of London has been identified on internet forums as Michael Adebolajo.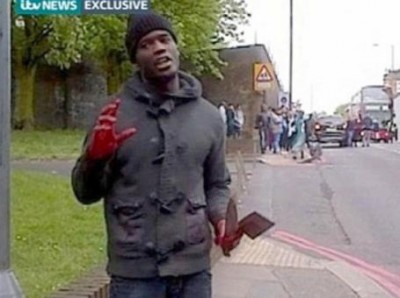 It is understood that Adebolajo, 28, and another man are being treated in separate hospitals while under arrest for the killing in Woolwich, southeast London yesterday afternoon.
The men, reported to be British citizens of Nigerian descent, were shot by armed officers after mowing down an off-duty officer, Drummer Lee Rigby, with their car and subjecting him to a gruesome knife-wielding attack at about 2.20pm.
MI5 sources claim Adebolajo and his accomplice, who are believed to have run-over the soldier with a Vauxhall Tigra as he walked back to his barrack, were known by the security enforcement agency.
Police were today searching addresses connected to Adebolajo in Romford, Essex. There was no answer at the address believed to be that of Adebolajo's father, named by neighbours as Anthony Adebolajo, reports Mail Online.
Although it has been widely reported that the men carried out the attack in the name of Islam, The Muslim Council of Britain has condemned their actions. In a statement, they said: "This is a truly barbaric act that has no basis in Islam and we condemn this unreservedly."
The statement continued: "Our thoughts are with the victim and his family. We understand the victim is a serving member of the Armed Forces. Muslims have long served in this country's Armed Forces, proudly and with honour. This attack on a member of the Armed Forces is dishonourable, and no cause justifies this murder."