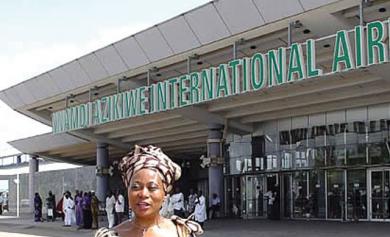 Visitors to the UK from Nigeria and  other "high risk" countries in Asia and Africa such as India, Pakistan, Bangladesh, Sri Lanka and Ghana will be forced to pay a £3,000 cash bond before they can enter Britain.
The Sunday Times reported today that a pilot scheme will target visitors from seven designated "high risk" countries, from which visitors aged over 18 on six-month visitors visas will be forced to pay the government a form of cash guarantee or deposit to deter immigration abuse from November.
"They will forfeit the £3,000 if they overstay in Britain and fail to return to their home countries by the time their visa has expired.

The controversial move by the home secretary, Theresa May, to introduce the Australian-style system reflects her determination to show that the Tories are serious about cutting immigration and curbing abuses.

The party faces a growing threat from UKIP, which is looking to exploit public fears about the impact of migrants on jobs and public spending in the run-up to the next general election.

Initially, the pilot scheme will target hundreds of visitors but the plan is it to extend it to many thousands.

The introduction of bonds will face criticism from pro-immigration groups because it does not target applicants from the "white Commonwealth". A similar scheme was rejected in Canada amid claims that it was unlawful because it discriminated against immigrants.

May said this weekend that immigration bonds were key to her plans to reduce annual net migration to below 100,000 by 2015 — in line with a target set by David Cameron.
So what do you think of this move? Should the Nigerian government reciprocate in kind? Have your say?