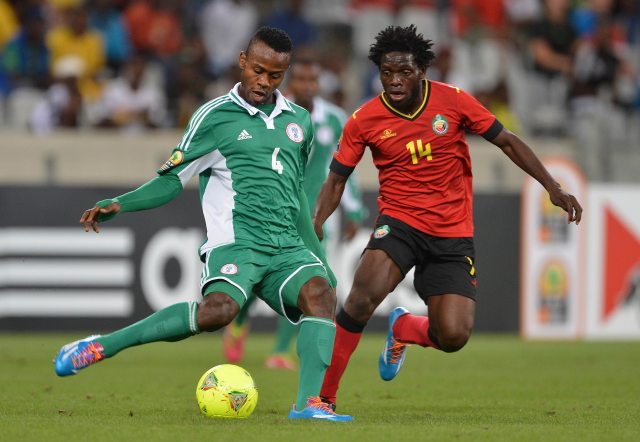 Nigeria's Super Eagles beat the Mambas of Mozambique 4-2 in the second match of Group A at Cape Town Stadium on Wednesday night, thereby throwing the tough group, also comprising South Africa and Mali who drew their earlier game, wide open.
The match witnessed a glut of goals, four in a frantic 10 minutes of the first half and two more in the second half.
It was a game full of drama and the amount of goals tell a story of two teams who went for the attack from the word go.
Mozambique took the lead as early as the 9th minute through Dario Khan whose long range free kick gave Chigizie Agbim in goals for the Super Eagles no chance.
Nigeria replied immediately through Ifeanyi Ede who took advantage of a hesitant Mozambique defence to slam home a volley into the net.
Two minutes later, Nigeria took the lead when Rabiu Ali took on the Mambas defence which back-peddled unnecessarily before unleashing a thunderbolt that was parried into the net by Soares Soares.
As opportunities came thick and fast Mozambique could have hit back immediately but Manuel Fernandes failed to beat a drawn out Agbim.
The West Africans continued to pour forward searching for more goals as the Mozambique defence looked shaky and out of sorts.
Mozambique did equalise in the 19th minute when Diogo Alberto was delicately put through by Fernandes and finished with aplomb after some horrendous mistake by Agbim in goals for Nigeria.
The match was turning out into a classic with goals galore.
The pace was still frantic after the break as both sides threw caution to the wind.
The Super Eagles then earned a penalty in the 53rd minute after the Guinea referee, Aboubacar Bangoura adjudged that the Mambas defender had handled in the box. Rabiu Ali made no mistake from the spot to make it 3-2.
Mozambique survived another scare in the 74th minute when the Super Eagles mounted another attack but somehow cleared the ball to safety after a frantic goalmouth melee.
Substitute Barnabas Imenger put the icing on the cake when another horrible clearance from the Mozambican defence fell into the path of the striker whose audacious lob gave Soares no chance to make it 4-2.
While the outcome was what critics predicted, the Mambas didn't disgrace themselves as they put a brave show but some leaky defence and indecisive play at the back let them down.
Starting Line-ups:
Nigeria:
1 Chigozie Agbim (C) (GK), 2 Kwambe Solomon, 4 Ugonna Uzochukwu, 5 Kunle Odunlami, 6 Azubuike Egwuekwe, 7 Christantus Ejike, 8 Rabiu Ali, 9 Fuad Salami, 18 Bright Eseme, 19 Abdullahi Shehu, 20 Ifeanyi Ede
Mozambique:
4 Saddan Guambe,5 Francisco Miocha, 6 Monis Chimene, 8 Manuel Uetimane, 9 Manuel C.T. Fernandes, 11 Mario Sebastiao Sinamunda, 12 Soares Soares (GK), 14 Diogo Alberto, 16 Almiro Lobo, 18 Dario Khan (C), 20 Josemar Machaisse
[Source: CAF Online]