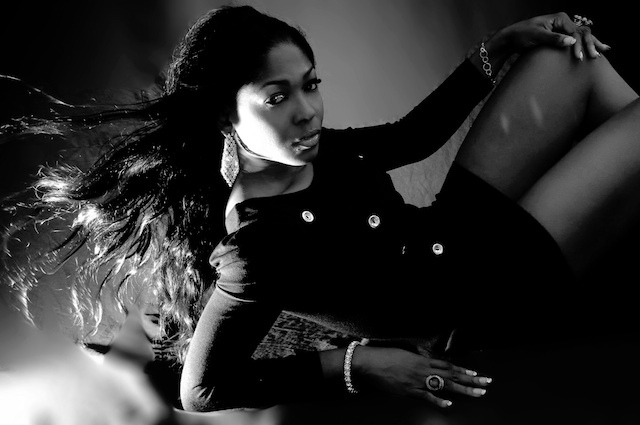 Nigerian actress Susan Peters was born on May 30th, and hails from Idoma tribe in Benue State. The third born of eight children, she was brought up under strict surveilance of her parents.
Her father was in the military and her mother owns a shop. Due to her military background, Susan grew up in many parts of the country and speaks the three major Nigerian languages (Hausa, Ibo and Yoruba) fluently.
Susan attended Airforce Nursery and Primary Schools and FGGC Wuse Abuja. She also studied Computer Science at Asman English School and graduated in 1998; then further studied Tv and Film at Video Waves And Camera Film School and graduated in 2002.
At school, she came out as Best Overall Female in her class. After an excursion with her classmates, she began auditioning for acting jobs amongst other Nollywood projects and started acting in 2002, the same year that she graduated.
Susan started modelling as well in 2003 and has appeared in many advertisements. From billboards to TV commercials, Press ads, Handbills and many more, including BAT (British America Tobacco) For West Africa Billboard, Fidelity Bank Billboard, Bank P.H.B billboard, Golden Penny Pasta Billboard, U.H.F Long life Milk Billboard, Haemeron Blood tonic Billboard, Airport Branding, Finbank TVC and Press, amongst others.
This year she has won four awards including: Afro-Hollywood, BON (Best of Nollywood and NAFCA (Nollywood And Film Critics Award).
Her movies include: Sound of poverty, Wicked Intensions, Stone face, Spiritual War, God Mother, Nollywood Hustlers, Bursting out, 30 days, Mortal attraction; and many others.
Susan also played the lead role in the popular African TV series, Domino, which was produced by Tajudeen Adepetu. She played Eniola Lord Williams, which brought her fully to lime light, alongside Kalu Ikeagwu, Kate Henshaw-Nuttal, Segun Arinze and other A-list stars. Susan starred in U.S. as well, another TV soap and Disclosure produced by Blessing Effiom.
This sexy actress and her interpretation of her characters in movies has made her rise quickly in Nollywood. She also owns a salon and a boutique called SUEZ PLACE. Her subsequent delivery has made her one of the Divas in Nollywood.
 Filmography:
2002: Wasted Effort, The Hammer, Songs of Sorrow, 11 Days and 11 Nights.
Actors worked with: Kanayo O Kanayo, Ramsay Noah, Rita Dominic, Dakore Egbuson, Chidi Mokeme, Muna Obiekwe, Pat Attah, Ini Edo.
Directors: Izu Ojukwu, Lancelot Imasuen, KAB.
2003: Squad 23, State Of Emergency 2, The Begotten, The President Must Not Die.
Actors worked with: Saint Obi, Ngozi Ezeonu, Rita Dominic, Jerry Amilo.
Directors: Tarila Thompson, Teco Benson, O Squires.
2004: Stolen Bible, War Front 2, Saving The Crown, Wild Wind, Second Adam.
Actors worked with: Kate Henshaw-Nuttal, Gentle Jack, Stephanie Okereke, Jim Iyke, Benita Nzeribe, Eucharia Anunobi, Mke Ezuruonye, Benedict Johnson.
Directors: Emeka Nwabueze, Teco Benson, Lancelot Imasuen, Paul Obazele, Theodora Anyaji.
2005: Life Is Beautiful, Immoral Act, 30 Days (with Ego Boyo), Moment Of Truth.
Actors worked with: Jim Iyke, Kanayo O Kanayo, Stephnora Okere, Genevieve Nnaji, Chet Anekwe, Kalu Ikeagwu, Joke Silva, Segun Arinze, Chioma Chukwuka, Mike Ezuruonye, Georgina Onuoha.
Directors: Femi Ogedengbe, Teco Benson, Lancelot Imasuen, Mildred Okwo.
2006: Behind the Plot, Young Masters, Ghetto Language, God Mother, Nollywood Hustlers.
2009: Timeless Passion, Bursting Out (Produced by Emem Isong and Directed by Desmond Elliot).
Actors Worked with: Genevieve Nnaji, Majid Michelle, Omoni Oboli, Nse Ikpe-Etim, Desmond Elliot.
2010: Catwalk Series (With Emem Isong and Monalisa Chinda), Black Heat (With Tricia Esiegbe).
2011: The Ransom (with Funke Akindele a yoruba movie), Love Entrapped (with Wendy and Desmond Elliot (shot in the US)).
Awards of recognition:
 City People Awards;  Outstanding Performance 2010
NAFCA Awards (Nollywood and African Film Critics Awards) North Carolina
Nigerian Oscars: Best Actress in Supporting Role 2011
Afro-Hollywood Awards, UK.
 16th African Film Awards 2011:  Best Actress English Language
Best of Nollywood Awards 2011:  Best Supporting Actress for the film bursting out
DIVA Awards 2011: Award of recognition to the growth of the industry
For more info, Contact Susan Peters:
Nigeria: 
Sandra – 12ADProductions +234 8023669434
United Kingdom:
Egor – E4PR +44 20885344
United States: 
Barbara – Orbit PR +1 4103822888
Visit Susan's Official Website:

Susan Peters on Twitter: