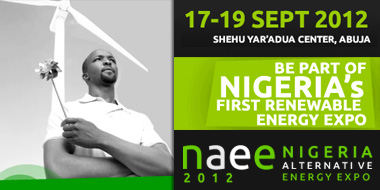 The Nigeria's Alternative Energy Expo (NAEE) 2012 holds at the Yaradua Convention Centre in Abuja, Nigeria from September 17-19 2012.
As the country's leading renewable energy event, NAEE 2012 will feature an impressive line-up of domestic and international speakers, delegates, and exhibitors from around the globe. These leading stakeholders will discuss many of the key opportunities and challenges affecting the energy future of Africa's most populous nation.
Built around the theme of "reforming Nigeria's power sector with alternative solutions," NAEE 2012 will include more than 4,000 renewable energy professionals and exhibiting companies from across the globe. Co-collaborators of NAEE 2012 include Nigerian's Energy Commission, the Renewable Energy Programme of the Ministry of Environment, and the Presidential Action Committee on Power (PACP).
The event has also received the backing of numerous local and multinational organizations like REEEP, AREA, UNEP and CEBC – stakeholders committed to developing sustainable solutions for continued growth in Africa's energy sector.
Attend NAEE 2012 and benefit:
• Networking amongst more than 200 senior level energy sector experts and decision-makers.
• Hearing from expert speakers presenting the latest and best industry practice.
• Visiting over 100 leading energy suppliers showcasing the latest technologies and equipment.
• Reviewing policy and regulation, industry progress, and changing market trends.
• Establishing a remarkable presence in the Nigerian market
• Sourcing and commissioning of local agents for your products
Attend NAEE 2012 and meet:
• Government & Municipality Representatives
• African Utilities & African Ministers of Energy
• Project Developers/Consultants / Analysts
• Environmental Engineering
• Equipment & Technology Solutions
• Banks/Investors/Insurance
• Energy representatives from the continent
• Automotive & Transport
• Green energy experts
• Commodity Traders / agents &
DATE & VENUE
• Press Day: 16th September, 2012
• Workshop & Expo Day 1: 17th September, 2012
• Expose Day 2: 18th September, 2012
• Expose day 3 & Networking and Gala: 19th September, 2012
Time: 9am – 5pm Venue: Yardau Centre, Wuse, Abuja, Nigeria.
The exhibition ground is over 1000 sqm. It is a five-star, Conference Centre in Abuja CBD and is about 25 minutes driving from the Nnamdi Azikiwe International Airport.
Admission
Admission to the Exhibition is free.
Registration
All visitors must register on arrival at the Venue. Registration cards must be obtained and completed before one can gain entry into the venue. Invitation cards may be obtained from the Organizers office at the Exhibition arena. Admission badges will be issued and must be worn at all time in the venue for security reasons. Subsequent entries can be made without further registration provided that the assigned badges are won.
For further Information, Please CONTACT THE EVENT ORGANISERS  at Suite 211 & 212, Lozumba complex Area 10, Garki, Abuja
P.O Box 6912
Wuse, Abuja 900421
Nigeria
Telephone:  +234 9 480 6271
+234 803 703 5439
Email: info@nigeriaalternativeenergyexpo.org