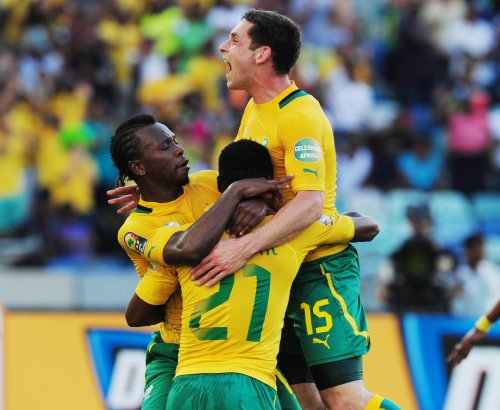 The 2013 Orange Africa Cup of Nations hosts, South Africa bounced back in emphatic style on Wednesday night beating Angola 2-0 at the Moses Mabhida Stadium.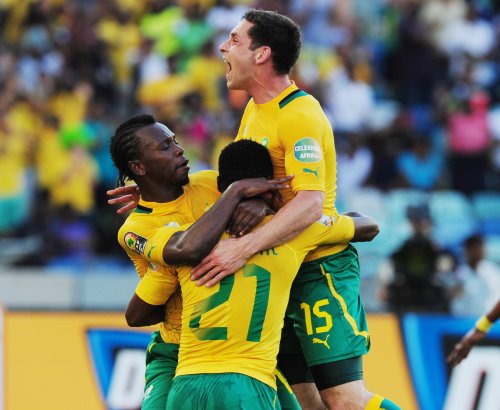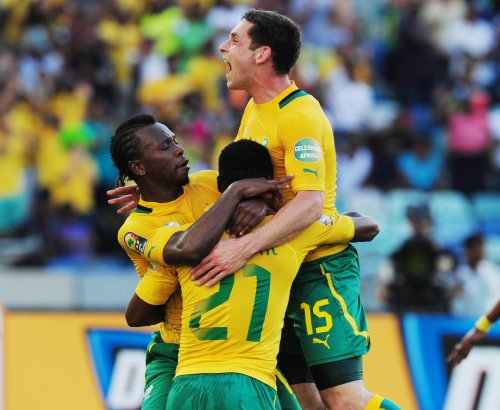 Written off in some circles after their lacklustre performance against Cape Verde, the South Africans replied to their detractors with a polished performance. They were composed; they looked less nervous; they looked determined. But significantly, they scored goals – not one but two.
The victory gives South Africa four points and leaves them in good standing for a berth in the knockout stages. From this match they got three points – but more importantly, the triumph restored belief.
For Angola, the defeats makes their last match against Cape Verde a must win. They live to fight another day.
Less than four minutes on the field, Bafana Bafana substitute Lehlohonolo Majoro pulled an act if individual brilliance when he worked his way through the Angolan defence and calmly put the ball between the legs of Angola keeper, Lama to put this game beyond reach for Angola.
The first game of the match was scored by defender, Siyabonga Sangweni. It took 29 minutes of football in the first half for the hosts to open their account in the tournament when Sangweni, unmarked in the box, composed himself to fire a shot past Angola keeper, Lama to the far post.
Few minutes later, Angola fought back and South African keeper, Itumeleng Khune had to make a great stop from curled corner by Geraldo.
The South Africa that pitched up at Moses Mabhida was a stark contrast to the pedestrian, immobile outfit that managed a goalless draw against Cape Verde. They had made some changes in their line-up and fine-tuned their style.
For Angola – they had relied on counter attacks against Morocco in their first game. On Wednesday night against South Africa, they utilised their flanks to penetrate South Africa
Angola spent the better part of the first half on the back foot trying to put off fires. When it came to brute power, Angola dominated. In midfield, they quickly closed the South Africans relying mainly in their physical built. The South Africans crafted their moves from the back utilising their skill and pace, but often could not deliver the killer pass to connect with Mphela.
The pace of Tokelo Rantie – the South African forward was creating problems for Angola – but the youngster often could not punish opponents.
In the 22ndminute, Rantie should have done better after a beautiful exchange between himself, Mphela and Parker. Unmarked in the box, the South African forward balloned his shot. It was a great escape for Angola.
Two minutes before half-time, Manucho knocked the ball back to Geraldo, but the latter couldn't compose himself. South Africa went to the interval leading by a goal.
In the second half, the Angolans came with renewed vigour. On the 53rdminute, Guiherme forced a great reflex save from Khune. South Africa hang on to the two goals and emerged as victors.
Gordon Igesund, South Africa coach
"I think we are at the stage where we have to focus on our next game. We can't get ahead of ourselves. We have our next game against Morocco, we will focus on them.

"Today was a must win for us. Today I gambled; I wasn't scared to lose. I kept on telling the players that I wasn't scared to lose so I had to be a bit daring today. We were prepared to lose this game; we played with only one holding midfielder."
Bongani Khumalo, South Africa captain
"We knew what we had to do today, nothing less than a win today would have done. We got a second chance, we played well.

"We kept a clean sheet and that is very good for our confidence going forward. We made some bold changes today and it paid off.
Gustavo Ferrin, Angola coach
"South Africa played well today. We didn't play as well as I expected. This is the same team that played against Morocco last weekend. Last Saturday, they played well, but today, they couldn't give service to Manucho
(CAF/AFCON2013)