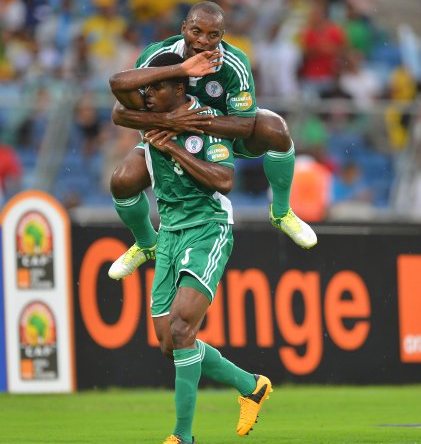 Nigeria ended Mali's aspirations of reaching the 2013 Orange Africa Cup of Nations finals when they defeated the fellow West Africans 4-1 at the Moses Mabhida Stadium on Wednesday night.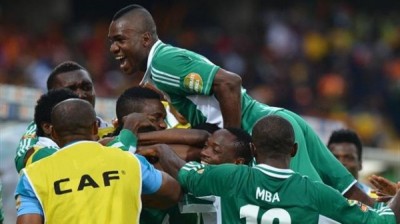 The Super Eagles were shrewd and ruthless on the night. In front of goals, they were clinical and opportunistic. In few days time, they will make the journey to the National Stadium to play in the finals on Sunday. What will happen there is unknown for now.
By half-time, Nigeria had taken a three goal lead in this game. It was a bold statement from the Super Eagles. If they had been mocked and underrated before this tournament and, if their victory over Cote d'Ivoire was still being seen as a fling with success, in Durban they were declaring their intentions to engage in a formal courtship with success under Stephen Keshi.
It has been 13 years since Nigeria last qualified for the finals of the African Cup of Nations – back 2000. 13 years is a long time to wait for anything.
Spare a thought for Mali. Their journey ended on Wednesday night, but the inspiration behind their tournament campaign will not be forgotten. At every opportunity, they spoke of a painful situation back home – they saw this tournament as an opportunity to bring joy and happiness in their native land.
Their purpose was bigger, but Nigeria were a better team on the night.
In the first half, Mali were good in patches. Just over 10 minutes into the first half, Mali declared their intentions when captain, Seydou Keita's header sailed narrowly wide from the left upright from a corner. A minute later, Mohamed Sissoko unleashed a powerful shot from far, but it flew over the crossbar. The back-to-back Mali opportunities seemed to have left the Super Eagles shaken a bit.
Consequently, they began to be more assertive going forward. Soon, they had a moment of their own when striker Emmanuel Emenike found himself unmarked inside the box. Emenike picked his spot, but Mali keepr Mamadou Samassa produced a brilliant save.
Half-way through the first half, Nigeria's persistence paid off when Chelsea forward, Victor Moses telegraphed a beautiful cross inside the Mali boss that was connected by Elderson Echiejile with a diving header to put the Super Eagles ahead. Echiejile might have received the kudus, but credit should go to Moses who had engineered the move and set it up for Echiejile.
Four minutes later, the Super Eagles replicated a similar move and the results were the same. Emmanuel Emenike played a perfect ball inside the Mali box and Brown Ideye punished the Malian defence.
In both goals, Mali were guilty of ball watching. Throughout this campaign, their DNA had been a disciplined defence. However, Nigeria must have worked out that they can profit from attacking Mali's left side.
At the stroke of half-time, Nigeria impounded the misery on Mali when they scored their third goal thanks to a deflection from an Emenike free-kick. Fortune, it is often said, favours the brave.
Half-time score was 3-0.
Two minutes into the second half, Keita should have pulled one back for Mali, but he rushed his shot and missed target.
When Mali were picking momentum, Nigeria's substitute Ahmed Musa put the final nail in their Mali's coffin when he scored Nigeria's fourth goal.
On the 75thminute, Mali scored their only goal after substitutes, Tidiane Diabate and Mady Diarra combined well with the latter taking a shot to the far left corner that beat Nigeria keeper, Victor Enyeama.
Reactions
Stephen Keshi, Nigeria coach:
"Nigerians have waited a long time for this moment; Nigerians have missed out a great deal in the last few years, my goal was to put smile on Nigerians. We knew that Mali will give us a tough time, but we knew that they are a little bit slow and we took advantage of that.

"There were lots of problems back home when I left out some of the senior players in the team but I had my own reasons, I know that some people did not understand. We wanted team players – the mentality – the players who can work for the team. There is a lot of talent and potential in this team – we still have a long way."
Vincent Enyeama, Nigeria goalkeeper:
"We are happy, we want to thank God for this victory. Everyone in our team is a captain, we motivate ourselves, we all know what we have to do on the field. I'm not the captain of Nigeria – I'm just standing in for the captain (Joseph Yobo)."
Patrice Carteron, Mali coach:
"We are proud of the fact that we have been able to play well. I'm proud of my team even though we did not go to the final. We have to remain positive.

"We lost against a good team that was full of confidence tonight. We played a team that just beat Cote d'Ivoire and you could see their confidence on the night. What happened to us tonight is very difficult. Mali has been able to reach the semi-finals before and we also achieved that – which is good."
Seydou Keita, Mali captain:
"It is difficult to have a fair analysis in this situation. They have a good team, they have won and they were a better team than us. Right now I'm still very emotional.

"Today we failed to win; it is not about individuals but about a collective effort. We were very happy against South Africa because we played as a team. Tonight we didn't play well and we must all share responsibility."
(CAF/AFCON 2013 LOC)