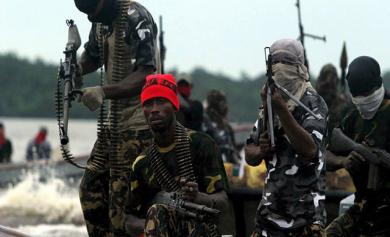 Nine Oil workers attached to the Nigerian Oil Servicing Companies of the Octopus Clan Nigerian Limited and the Deck Oil Services were yesterday kidnapped by gunmen suspected to be renegade militants along the Ilebiri Creek in the Southern Ijawarea of Bayelsa State.
The oil workers,according to top security sources, were abducted at about 2pm last Thursday by gunmen suspected to be killers of the 12 Policemen last month along the waterways of Azuzuama community of the Southern Ijaw area.
We gathered yesterday that the kidnapped workers were Nigerians and were on their way to resume work on the repair on several leak ranging from 18" Tebidaba Brass line, OgodaOgboinbiri 24" line at Oporoma, OgboinbiriTebidaba 14" line at Ikebiri, Kemebiama, Osiama 6" flowline, Tebidaba wells 14 & 11 flowline replacement and several others for the Nigerian Agip Oil Company (NOAC).
An indigene of the Ikebiri community, Kelvin Okuneibie, told Leadership Newspapers that the indigenous fishermen along the waters confirmed that the gunmen swooped on the oil workers from the Azuzuama axis of the area. He said "these gunmen are suspected to be killers of the 12 policemen and may be running from the onslaught of the JTF and kidnapped the workers as insurance."
Five of the kidnapped workers were reportedly attached to the Port Harcourtbased oil and gas servicing company known as the Octopus Clan Nigeria Limite, acompany owned by the former chairman of the defunct Bayelsa State Peace and Conflict Resolution Committee, Chief James Jephathah.
Contacted on the development,the authorities of the Joint Task Force code named Operation Pulo Shield through its media coordinator, Lt. Colonel Onyeama Nwachukwu, said he was not aware of the development as the employers of the kidnapped workers had not officially reported to the taskforce.
All calls to the public relations officer of the Bayelsa Command of the Police, Mr Alex Akhigbe yielded no result as they claimed ignorance of the development.
Meanwhile, the detachments of the Joint Military Task Force code named Operation Pulo Shield weekend came under heavy gun attacks from suspected oil thieves and kidnappers in the Delta, Cross Rivers, Abia and Bayelsa communities.
According to the JTF, two suspected kidnappers were drawn out of their hideout in Afukang in Calabar South local government area of Cross River in a sting operation by a combined team of operatives of the Sector 3 of the JTF and Department of State Security covering Cross-Rivers State.
But the suspects, one Edidiong Udom and Victor Akwang, opened fire on the security team. The gun battle, according to the JTF, lasted for some minutes and the suspects were overpowered and arrested in a pre-dawn anti-kidnapping raid and handed over to the Department of State Security, Calabar for further investigation.
One pump action gun, one locally made pistol, 22 cartridges and four 7.62mm special ammunitions were recovered from the hide out.
(By Leadership Newspapers, Abuja)