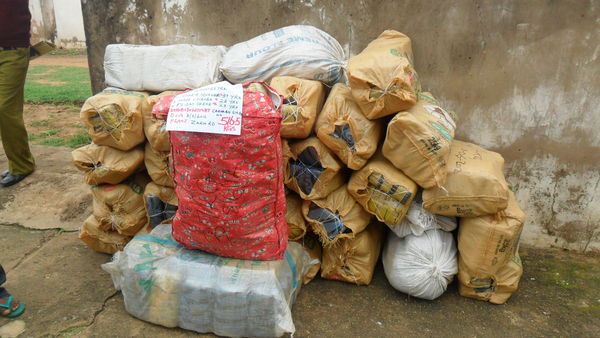 The 176 Special Forces of the Guards Battalion, Nigerian Army, on Friday arrested three men for allegedly conveying 27 bags of substance suspected to be Indian hemp.
Capt. Charles Ekeocha, the Public Relations Officer of Guards Brigade, told newsmen in Abuja that the suspects were arrested by the troops of the battalion while on patrol in Kwali, FCT.
Ekeocha said that the suspects were arrested on May 26 in a J5 bus with registration number Kano AE 163 AJG on their way to Kano.
He added that the seized items, fully loaded in 50kg bags, were carefully concealed in the upper compartment of the bus to escape detection.
"Initial investigation revealed that the suspects were heading to Kano from Akure as they claimed the illegal goods belonged to someone in Kano.
"The suspects were subsequently detained in the unit while efforts were made to lure the alleged owner from Kano to show up.''
Ekeocha said that the owner of the goods was yet to show up.
He said the suspects, the bus and the bags containing the substances, would be handed over to the National Drug Law Enforcement Agency for further interrogation and prosecution.
One of the suspects told newsmen that he lived in Akure and met the owner of the goods who called him on May 26 to meet the person who supplied the goods.
He said he was a student of Rufus Giwa Polytechnic, Akure, and was lured into the business because things were rough with him.
The driver of the bus said he knew that the substance he carried were prohibited "but I am begging the government to forgive me''.
(Source: NAN)