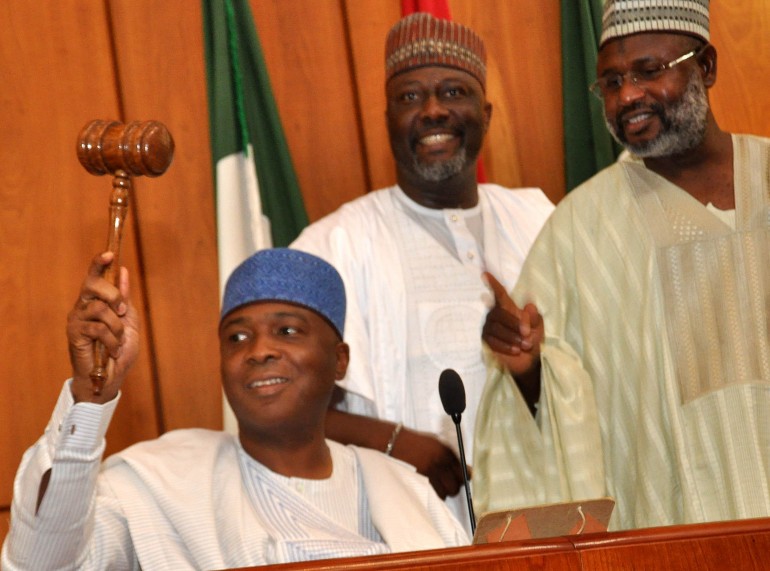 After a two-day screening in Abuja, the Nigerian Senate on Wednesday confirmed 18 ministerial nominees, among them former Governors Babatunde Fashola (Lagos) and Dr. Kayode Fayemi (Ekiti).
The other ministers-designate are:
Senator Udoma Udo Udoma (Akwa Ibom)
Chief Audu Ogbeh (Benue)
Dr. Ogbonnaya Onu (Ebonyi)
Dr. Osagie Ehanire (Edo)
Alhaji Lai Mohammed (Kwara)
Lt. Gen. Adulrahman Danbazzau (Kano)
Amina Ibrahim Mohammed (Gombe)
Mr. Suleiman Hussaini Adamu
Mr. Ibrahim Usman Jibrin
GMD, NNPC, Dr. Emmanuel Ibe Kachikwu
Mr. Abubakar Malami (SAN)
Senator Chris Ngige
Senator Aisha Jummai Alhassan
Mr. Solomon Dalong
Mrs Kemi Adeosun
Senator Hadi Sirika
Fashola, the former Lagos State governor denied corruptly enriching himself in the controversial N78 million personal website deal executed under his administration.
Asked to define loyalty, the former governor described it as a strange concept, saying: "I have always prayed that may our loyalty never be tested.
"I pray that my loyalty should not be tested. In my public life, I have had cause to be loyal to causes I believe in".
Fashola said he could not take credit for his work in Lagos, saying it was a team effort. "It was a team work, a pioneering work by all those who served before me and it is a continuing effort.
"So, it will be extremely inappropriate and immodest of me and indeed, they would not let me if I had attempted to take personal responsibility for all that happened," he said.
Kachikwu, the NNPC GMD told the senators that President Muhammadu Buhari is insisting on putting necessary palliatives in place before considering oil subsidy removal.
If any person from the private sector is asked whether subsidy should be removed, the categorical answer, he said, would be yes.
He said the President was particularly concerned about the provision of necessary palliatives especially in the areas of transport, health and education, when the issue came up before him.
Kachikwu said he agreed with the President that unless necessary palliatives were in place "you cannot just remove subsidy."
"The NNPC is working to establish the actual volume of PMS the country consumes monthly and the actual amount the country spends on subsidy to determine the direction to go"