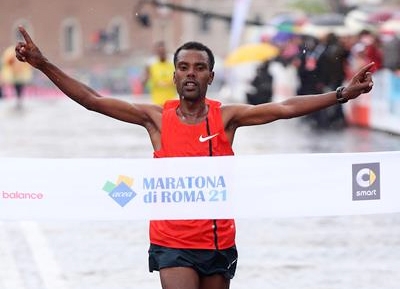 Fifty elite athletes who are part of the star-cast for this weekend's Access Bank Lagos City Marathon will arrive in the country on Thursday, February 4th officials have confirmed.
The General Manager for the Lagos City Marathon race, Yussuf Alli revealed that most of the expected athletes will be coming from Kenya, Ethiopia, Eritrea, Bahrain, Cameroon and Rwanda.
Alli further stated that the incoming athletes will drive straight to the Expo Center for the Marathon race at the Teslim Balogun Stadium in Surulere, Lagos to collect their race bibs and numbers.
The athletes will also be warmly received by Chairman of Lagos State Sports Commission and head of the Organising Committee for the Access Bank Lagos City Marathon, Deji Tinubu
"We are expecting the bulk of our elite athletes on Thursday from their respective bases, they are all eager to be here for the Lagos City Marathon," Alli stated.
Favourites
Top on the list of those expected in Lagos on Thursday is Kenya's Josphat Kifanni Too who has a lifetime best time of 2:08:23.
Peter Kiplagat who won the 2015 Geneva Marathon is also expected from Kenya as well as his compatriot Sammy Kibet; winner of the 2011 Warsaw Marathon.
Abebe Negewo winner of the Rome 2012 Marthon is also expected from Ethiopia.
Meanwhile, organisers have also confirmed that as much as 150 Nigerian elites; mostly from Jos will also be arriving in Lagos on Thursday.
Well over 20,000 runners are expected to feature in the February 6 Access Bank Lagos City Marathon which is the first of its kind in over three decades.
About N92 million is also up for grabs for marathoners who can run from the Old Lagos (National Stadium Surulere) to New Lagos (Eko Atlantic City), a distance of 42.195 kilometres.