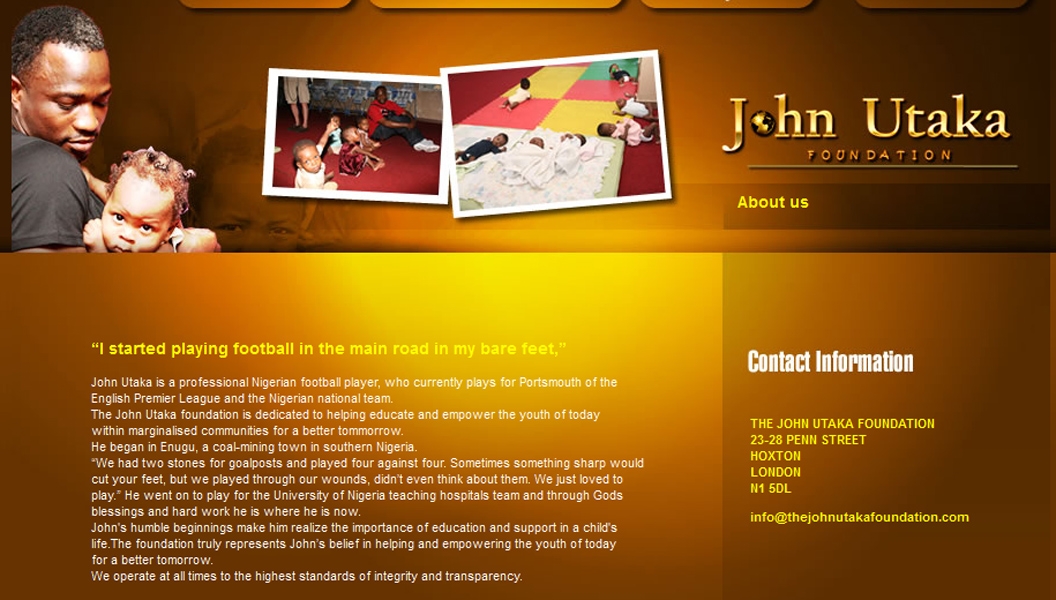 Nigeria and Montpellier Herault SC striker  John Chukwudi Utaka will be launching his Foundation in aid of helping the Mentally and Physical Disable Children in Africa on May 6, 2012 at the Hilton Hotel, London Paddington,
Its a Dinner and Dance Red Carpet event which will be well attended by top African and World football stars such as Sheyi Adebayor, Michael Essien, Nwankwo Kanu, Aaron Mokeona, Benjamin Nwaruwari, Hayden Mullins, and top government officials from Nigeria.
Also on the night, there will be a grand fashion show by Adebayo Jones Couture and the Young talent of Asake Couture. Entertainment will be provided by many African Super star singers from Nigeria, Ghana, Sierra Leone and Ivory Coast.
The John Utaka Foundation is dedicated to helping educate and empower the youth of today within marginalised communities for a better tommorrow.
About John Utaka
John Utaka is a professional Nigerian football player, who currently plays for Portsmouth of the English Premier League and the Nigerian national team. He began in Enugu, a coal-mining town in southern Nigeria.
According to John: "We had two stones for goalposts and played four against four. Sometimes something sharp would cut your feet, but we played through our wounds, didn't even think about them. We just loved to
play."
He went on to play for the University of Nigeria teaching hospitals team and through Gods blessings and hard work he is where he is now. John's humble beginnings make him realize the importance of education and support in a child's life.
The foundation truly represents John's belief in helping and empowering the youth of today for a better tomorrow.
Time: 7pm, Tickets: £100
Buy your tickets now at http://www.johnutakafoundation.eventbrite.com.
Contact:
THE JOHN UTAKA FOUNDATION
23-28 PENN STREET
HOXTON
LONDON
N1 5DL
Email: info@thejohnutakafoundation.com